Sacramento County
League calls for City of Sacramento action
The League of Women Voters of Sacramento calls for Sacramento Police Department action on legislative requirements.  LWVSC evaluated how SPD's recently revised use-of-force policies align with California's Act to Save Lives (AB 392), a state law that took effect on January 1 of this year. LWVSC's report found that SPD's revised use-of-force policies have not complied with the law even after receiving criticism and recommendations from the California Department of Justice and the city's own Sacramento Community Police Review Commission.
Next election is November 3, 2020 - General Election 
HOT OFF OF THE PRESS - PRO/CON VIDEOS
Easy to watch videos covering each of the propositions on the November 2020 ballot.  
  League recommends ....
The California and Sacramento Leagues take positions on the November propositions based upon prior general principles and recent research.  
Find out what the LWV recommends, NoWayMeasure A.
And, something new about your ballot....
Did you know you can track your ballot?  Check out this brief video!
The Sacramento County Registrar of Voters, Courtney Bailey-Kanelos invites YOU to join a Zoom meeting to get all of your questions answered or listen to the questions of others.  She will also answer questions about COVID-19 preparations for voting.
Thursday, October 8 at 7:00 pm

Saturday, October 17  at 2:00 pm

Tuesday, October 20  at 7:00 pm
Did you know that in the March 2020 California vote that OVER 70% of ballots were cast by mail according the the League of Women Voters of California?
Youth Teams produce....
Meredith, Sacramento League high school senior is producing some quick, fun YouTube vidoes - please subscribe to our channel.  Our goal is 200 subscribers.
CIVITAS, a Sacramento group encouraging youth engagement, invites you to register to vote: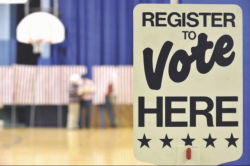 To pre-register to vote you must be 16 or older.  Go to: https://registertovote.ca.gov 
Finally a fun game about distinguishing fact from fiction regarding voting, from the Alameda County League's, Youth Services Team. 
94.5% of CA households counted - let's go for 100%
Over 90% of Households Have Been Counted
The U.S. Census Bureau has begun to release daily 2020 Census housing unit completion rates, including the 2020 Census self-response rate and Nonresponse Followup completion rate. 91.8% of housing units have been accounted for in the 2020 Census as of today, with 26% counted by census takers and other field data collection operations, and 65.8% of housing units responding online, by phone, or by mail.
Join us for the latest League news!
Join the League online and tell a friend!
Also, the California League announces the availability of the Easy Voter Guide - time to get an overview of all of the ballot propositons